CHRISTINA TENUTA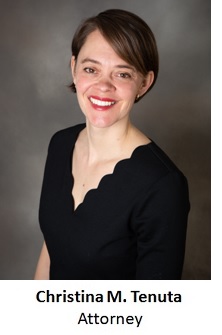 Christina graduated from the City University of New York School of Law (CUNY) in 2010, where she received the Hon. Bryanne Hamill Family Law Fellowship and the Public Interest Law Fellowship. Christina is an experienced family law attorney and guardian ad litem in the areas of divorce, child custody and placement disputes, child support, restraining orders and abuse and neglect cases. She is also a trained mediator.
Christina enjoys helping families navigate the family court system with an eye towards healthy short-term and long-term goals. She recognizes that this is a time of difficult transition, especially for children, and believes success is achieved when parties are empowered to participate in the legal process with the help of an experienced attorney.
Christina is a member of the Dane County Bar Association and the Family Law Section of the State Bar of Wisconsin, where she serves on their Legislative Sub-Committee. As a dedicated public interest attorney, she participated in the creation of the Tri-County Foreclosure Mediation Clinic in northeastern Wisconsin and the Senior Wills Clinic in Dane County.
Christina currently serves on the Parental Representation Project of Dane County, representing parents in abuse and neglect cases. Christina served as a board member of the Dane County Bar Association from 2014-2016. She is currently a member of Business Networking International (BNI). Her publications include: Can You Really Be a Good Role Model to Your Child if you Can't Braid Her Hair? and The Unconstitutionality of Factoring Gender and Sexuality into Custody Determinations, 14 N. Y. City Law Rev. (Summer 2012).