LEGAL STAFF
Our legal assistants provide a useful option for clients to communicate promptly with their attorney or get answers to some of the many questions that arise during their case. Paula and Sara are well informed on the status of our clients' cases.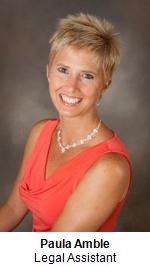 Paula Amble
Paralegal to Jack Schuster and Michael True.
Email: Paula@SchusterFamilyLaw.net
Sara Ommodt
Paralegal to Kathryn Pugh and Liz Schuster.
Email: Sara@SchusterFamilyLaw.net

Beth Piliouras
Paralegal to Christina Tenuta
Email: Beth@SchusterFamilyLaw.net